Problem:
Windows RT doesn't allow for full integration of Dropbox like Windows 8(.1). Therefor you can't save or open something directly on your Dropbox drive, you have to download it and then open it, edit it and finally upload it.
Solutions found on the web:
In my search for solutions I found other options (of which nether satisfied me):
Use Skydrive instead of Dropbox. Skydrive is fully integrated in Windows 8.1RT, sadly it lacks a lot of options standard in Dropbox as well as reliability.
Use this guide to sync your Dropbox storage with your Skydrive storage.
Cons:

You still have to use Skydrive
Both storagecapabilities have to be equally large
YOU STILL HAVE TO USE SKYDRIVE
My Solution:
Requirements:
A 24/7 active computer with Dropbox installed (In my description I will use Windows Server 2008 R2)
The capability to connect this computer through a VPN
Short description
You have a Server (a simple computer will suffice, just as long you can install Dropbox on it)
on this computer you install a VPN server (comes standard in newer versions of Windows)
Make sure that you portforward port 1723 to your VPN server in your router
You connect your Microsoft Windows RT device with this VPN server
You mount the Dropbox directory
Now you can open and save all your documents straight in the Dropbox folder on your server. In the same way as you would on a full Windows computer
Full description:
You set up a VPN server on your host computer like this:
Go to 'Network and sharing centre' and click on 'Change adapter settings'. In the new screen press the ALT-key and then select 'New Incoming Connection...' A wizard will guide you through the installation (select users (these users must have read/write access to the Dropbox folder), check 'through the Internet', check IPv4 (and IPv6 if you use it)).
The steps are shown in the screenshots below:

Source
Router port forward:
Next you want to make sure that your router will forward port 1723 (from the internet) to port 1723 on your server. See your router manual for your portforwarding settings.
Now we are going to let the Windows RT device connect with the VPN:
On your Windows RT device go to 'Network and sharing centre' and click on 'Set up an new connection or network'. Select 'Connect to a workplace' and click next. Then click on 'Use my Internet connection (VPN)'. Next enter the IP-adress on which the server can be found. Make sure this adress is permanent (if not, you should set up a DNS and use that as the adress). Also make sure this is the external adress, you can look it up with a website like
http://whatismyipaddress.com/
. Enter the name that you want. And complete the wizard without further changes. In 'Network and sharing centre' click on 'Change adapter settings' again. You'll find your new connection there. Right click it and select properties. Then go to security and make sure you select 'PPTP' and 'encrypment necessary'. Then click 'OK'.

Source
Make sure that the Server service on your RT device is running:
Press the Windows key (go to start) and type 'services.msc', search for 'Server' in the list and start it (if it isn't allready). You might want to set it to automatic startup type as well.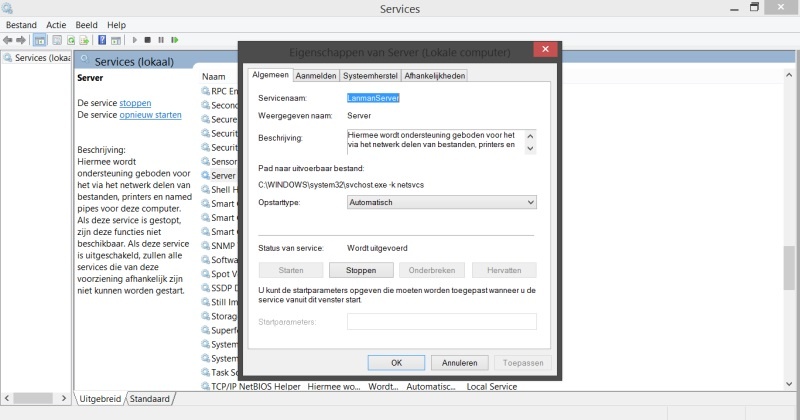 Now you can make an connection to your home network from any internet connection like this:
Make sure that you are on another internet connection then your VPN server is. On your RT device swipe from right to left to open the Charms-bar. Go to settings and then your network settings. There you'll find the VPN connection which you made earlier. In my case it is called 'Thuis'. Click on it and then click 'connect'. Now you are connected to your home network.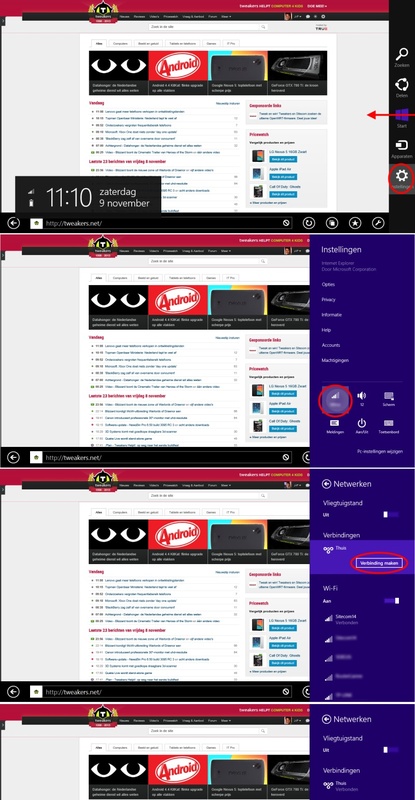 Finally we want to make a network bridge on our Windows RT device so we can easily select our Dropbox folder when we want to access it:
Make sure that you have instructed your 'VPN server' PC to share folders and files to the user which you gave access when installing the VPN server.
On your RT device go to the desktop environment and open 'Windows Explorer', in the adressbar type \\'YOUR
INTERNAL
VPN SERVER IP ADRESS' (which should look something like this: \\192.168.168.120) and press enter.
If you followed this tutorial closely you now should have access to your VPN server on another network. Now you have to make a network bridge for easy access. Select your Dropbox folder, go to 'easy access' and select 'Map as drive'. Select which drive letter you want to use and press 'Finish'.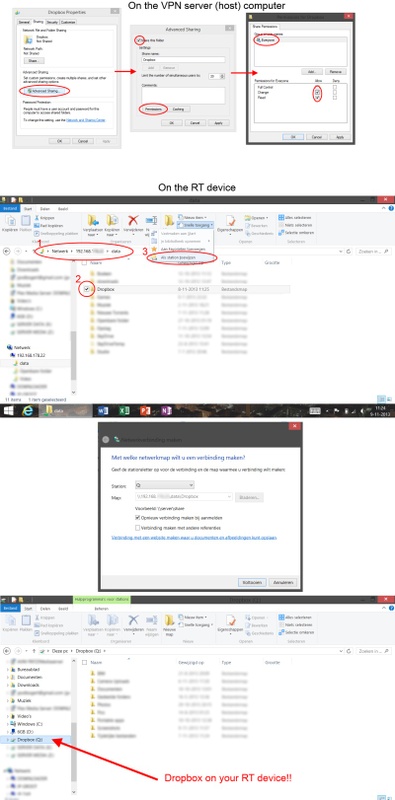 That's it! You now have a Dropbox drive, everything that you save on this drive will be uploaded to your VPN server which will sync it with Dropbox.
Caution:
The VPN connection will be disconnected each time that you are disconnected from the internet, so you'll have to start it manually when you want to use your Dropbox folder/files. On your home network this won't be necessarily.